The Indian Military Academy at Dehradun stands tall amongst its peers across the globe. After 89 years of its establishment in 1932, a total of 60384 Indian Gentlemen Cadets (GCs) and 2572 Foreign GCs from 34 friendly foreign countries have got trained and commissioned as proud Army officers from the portals of IMA. The current strength of foreign trainees stands at 222, clearly depicting that almost every fourth GC in the academy is from a foreign Army which reflects the stellar international standing of the Academy and its reputed training regime.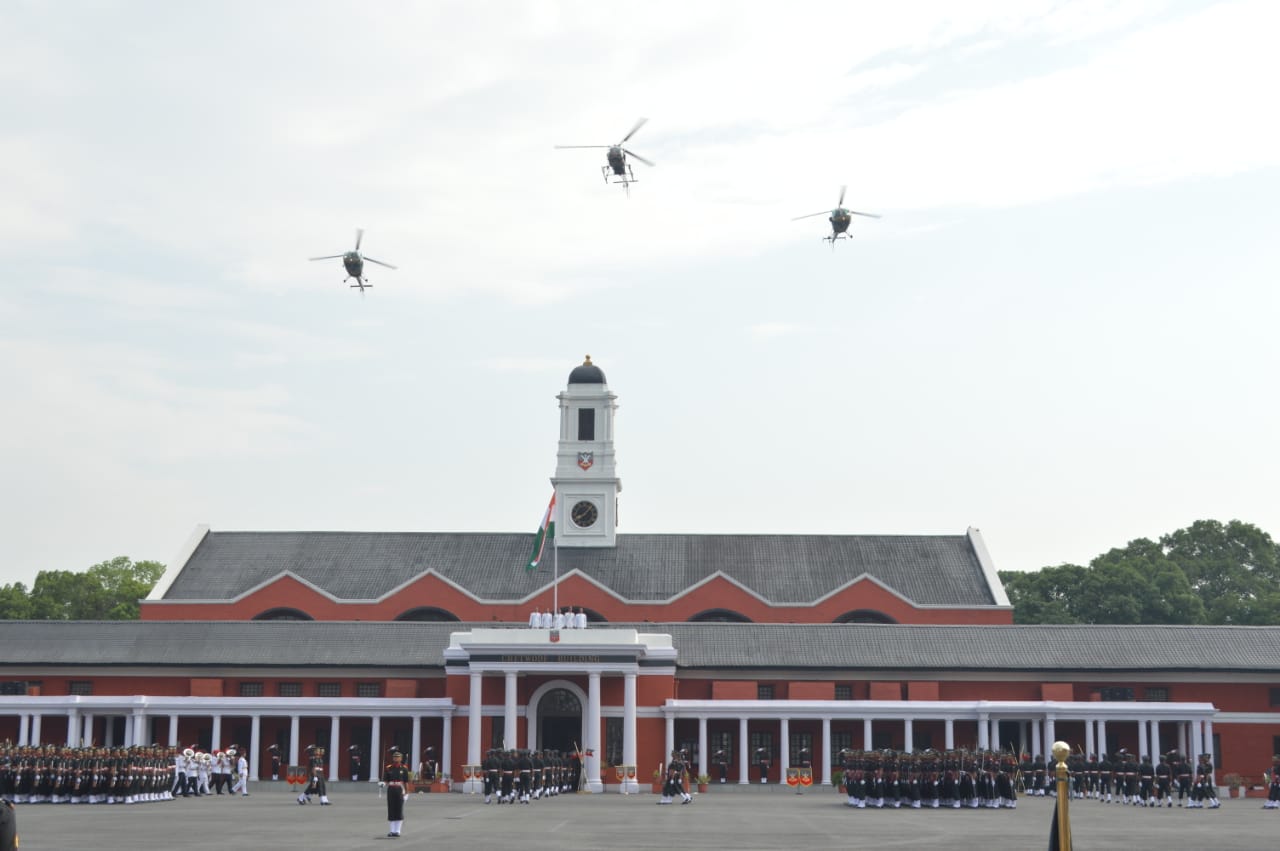 The COVID-19 pandemic posed serious challenges for the Academy but the academy progressed conscientiously with its uninterrupted training over the last 16-18 months to fulfill its mandate of training future-ready warrior leaders. IMA is currently engaged in preparing for its Spring Term Passing Out Parade which shall witness 425 smart, proficient GCs passing out. This includes 84 foreign trainees from nine countries.
The passing out parade will be held on Saturday, 12 June 2021 in the backdrop of the famous Chetwode Building and the parade shall be reviewed by Lieutenant General RP Singh, PVSM, AVSM, VSM, GOC-in-C, HQ Western Comd.
Due to the current pandemic situation, the parents & the family members of the Passing Out Gentlemen Cadets will not be able to attend the ceremony as stated in the press release by PRO, IMA Lt Col Himani Pant. This is the second time in the last one year that IMA has decided to tone down and restrict family members from visiting POP. The entire event will however be showcased for them live on various media channels including the official youtube channel of the Indian Army- "ADGPI-INDIAN ARMY". The pipping ceremony, which is traditionally done by the parents of the Passing Out Course, will be solemnized by the Instructor staff posted at IMA. The authorities stated that this decision was taken to ensure the safety and health of the would-be officers and their families.
On a road less-traveled, I Debanik Singh, a selenophile, adventurer from the tranquil valley of Doon express gratitude to the readers who are the sole inspiration for us working hard to get you dinkum information of Uttarakhand.
I owe all the readers my loyalty and true spirit to write. After spending 14 years of my life in a laid-back city like Doon, it has instilled in me a trait of placidness,whilst writing journals is my maiden attempt to contribute back to the society.