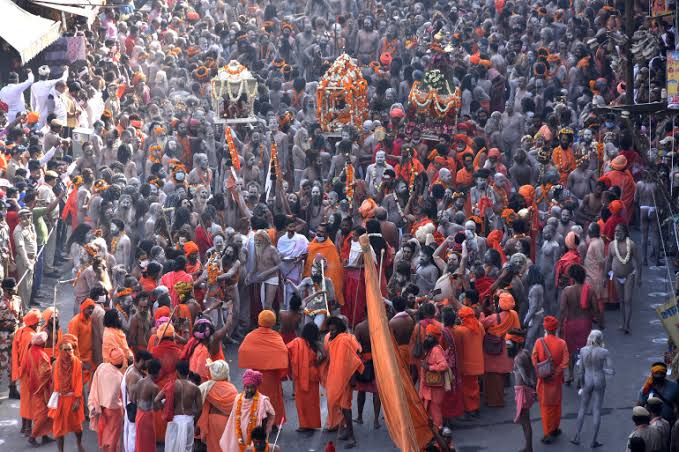 The Kumbh mela, one of the world's largest religious gatherings, was held in the state from April 1 to 30. As per estimates, at least 70 lakh devotees attended the Maha Kumbh.
On analyzing the official data of testing and positivity rate during April 1-30 by team 'Doon Mirror',(the duration of the Maha Kumbh 2021), the data showed that Haridwar conducted more tests than the rest of the state, but the number of positive cases detected was far less.
A total of 6,00,291 tests were conducted in Haridwar during April 1-30, of which only 17,375 positive cases were detected, whereas during the same period, the rest of the 12 districts of the state conducted 4,42,432 tests and this showed 62,735 positive cases.
On further analyzing the official data, it depicted that Uttarakhand's average positivity rate during the month was 14.18% while that of Haridwar district was 2.89%. This depicts that Haridwar's positivity rate during the Maha Kumbh was 80% less than the rest of state. The figures indicates two things: either fake testing was going on rampantly, or the numbers were being covered up, deliberately or otherwise.

Haridwar DM C Ravishankar sought to deflect blame "The labs that conducted tests were hired by the mela administration," he said. It was after a Faridkot resident complained that he received a message for collecting his Covid-19 report despite never having been tested, did the scam surface.
The complaint instantly triggered a probe that unearthed roughly 1,00,000 fake tests, allegedly conducted by Max Corporate Services.

On Friday, Uttarakhand police formed an SIT to probe how an unknown private agency secured the contract for testing during the mela. According to SIT sources, notice has been issued to 3 Labs for questioning. The SIT has given them four days to appear before it.
"The whole matter will also be probed by CO rank level officer. There seems to be a flaw also in the process of empanelling the labs. It should have been probed if they were approved by the Indian Council of Medical Research (ICMR) before their empanellment. But this was not done. This is a matter of investigation," the DM C Ravi Shankar said.
On a road less-traveled, I Debanik Singh, a selenophile, adventurer from the tranquil valley of Doon express gratitude to the readers who are the sole inspiration for us working hard to get you dinkum information of Uttarakhand.
I owe all the readers my loyalty and true spirit to write. After spending 14 years of my life in a laid-back city like Doon, it has instilled in me a trait of placidness,whilst writing journals is my maiden attempt to contribute back to the society.