The first of its kind to be organized by any North Indian State Police, Uttarakhand Police is proud to host the first edition of Devbhoomi Cyber Hackathon in 2021. This mega- coding event is intended to harness the creativity and expertise of students, visionaries and young entrepreneurs to offer innovative and sustainable solutions for some of the daunting challenges faced on a day-to-day basis, leading towards our mission of SMART POLICING.
The event is a software edition consisting of two rounds- preliminary round and the final Hackathon round. The official nomination for the event begins on 08.10.2021 where the participants can register themselves for preliminary round on the https://devbhoomicyberhackathon.in
The problem statements for the preliminary round are uploaded on the aforementioned portal from where the participants can select and submit their solutions on the official email ID devbhoomihackathon@gmail.com by 20.10.2021. The solutions submitted will be evaluated by a jury and the notification about the selected teams for the final round will be uploaded on the aforementioned portal on 31.10.2021.
The final round of the Devbhoomi Cyber Hackathon for the selected teams would be a 36-hours coding session on 10.11.2021 and 11.11.2021 at UPES, Dehradun, followed by project evaluation and prize distribution on 12.11.2021 at Police Headquarters, Dehradun. The top three winning teams will be rewarded a total of Rs. 1 lac (1st winner: 50,000, 2nd: 30,000, 3rd: 20,000), which will serve as a motivation to the young enterprising minds. The complete details are mentioned on the official website.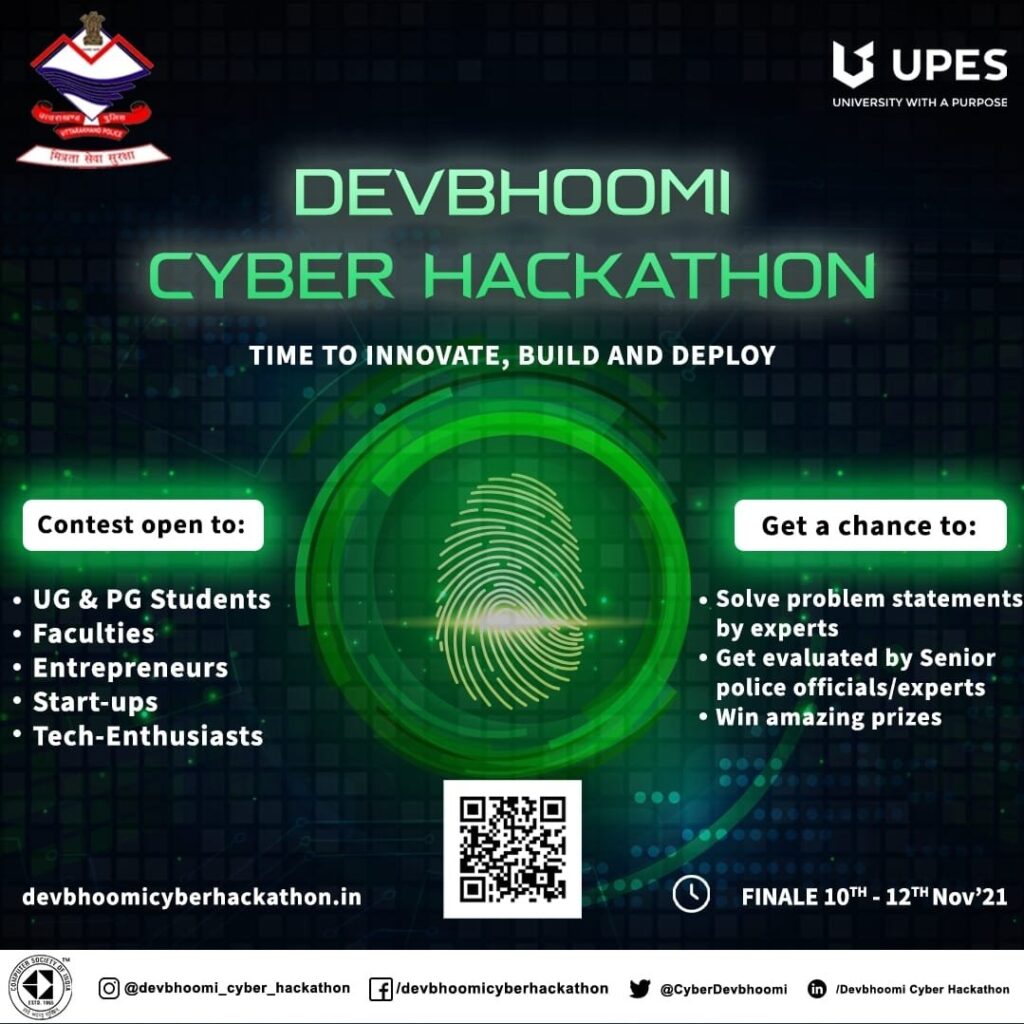 Ashok Kumar, DGP, Uttarakhand said that it's the first time that such an event is being organized by a State Police in North India and Uttarakhand Police is proud to take this initiative. He further added that the time is now ripe for the law enforcement agencies to embrace technological solutions to the fullest extent possible for the challenges faced. He also appealed to all the young entrepreneurs to participate whole- heartedly in the competition.
The event is being organised with support from UPES, Dehradun.